There are four variations of the Leica Noctivid 10x42 binoculars, all four come with 42mm objective lenses but there are green and black color versions and each color comes with 8x and 10x magnification depending on whether you want more wide-field or slightly tighter-cropped viewing.
Leica Noctivid 10x42: Specifications
Design: Roof prism
Exit pupil: 4.2mm
Eye relief: 19mm
Magnification: 10x (8x also available)
Objective lenses: 42mm
Durability: Waterproof and fogproof
Dimensions: 124 x 154 x 68 mm (4.9 x 6.1 x 2.8 in)
Weight: 862 g (1.9 lbs)
At almost $3000 / £2500 they're priced way out of all but the most invested observers' budgets and while they can be easily used by beginners and pros alike, these very much appeal to the discerning birder or professionals who can afford to spend the money and want something that not only performs but looks good, too.
The most notable feature on the Noctivid 10x42 binoculars (and the 8x) is Leica's use of the SCHOTT HT (High Transmission) glass which also features in their premium line of Ultravid HD-Plus binoculars. The color rendition is sublime and as far as we could tell there was no color fringing around any contrasted edges which was really impressive.
At 862g the Noctivid 10x42s aren't the lightest binoculars we've ever reviewed but they could be much heavier. The inside is formed from lightweight magnesium to keep them easy to carry around.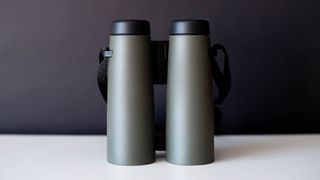 The binoculars are enveloped in a firm rubber armor all around, but the exposed metal parts (namely the hinge in the center) are coated with what Leica calls "A patented, hardness class 8 surface coating..." which we would expect to stand the test of time even with the occasional knock and bump that binoculars go through during handling.
One of the features we were most impressed by was the locking dioptre. Not only could it be locked, but it's built right into the main focus wheel. So, with a gentle pull toward the eyepieces the focus wheel splits and can be operated to change the right eyepiece focus in order to balance out views. That meant we could set the focus from scratch without taking our eyes off the binoculars and we even managed it one-handed. Clever.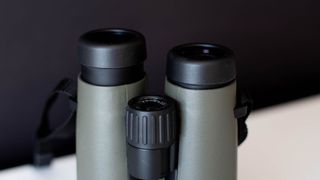 Leica Noctivid 10x42 Build & Handling
We didn't notice it until we had the binoculars in the hand, but Leica advertises the weight distribution as a selling point and we were pleasantly surprised to find the balancing point of the binoculars was right where we wanted to place our hands. This kind of little detail makes binoculars easier to observe for long periods.
The rubber armoring on the Noctivids is anti-slip and comfortable to use even for extended hours-long periods. Surprisingly, there is no section that is textured to provide extra grip that we've seen with other binoculars but nor does it need it. Because of this simple smoothness on the exterior, they look fantastic from any angle whether around the neck or when placed on the shelf in the bird hide.
Sadly there's no mount for a binocular tripod adapter on the Noctivids. At 10x magnification they are more generalist and slightly wide-field (the 8x more so) so we wouldn't necessarily expect this as a given but considering the price tag it seems an odd choice to exclude it altogether considering binoculars that are a tenth of the price do have them. This would be helpful for those with limited arm or grip strength or who have trouble with fatigue over time, even just birding for long periods in hides having the option to mount to a small tripod would be nice.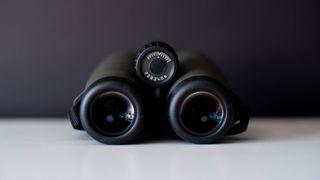 Leica Noctivid 10x42: Performance
Aside from the Nikon Monarch HG 10x42 binoculars, these Noctivids are likely the only other pair of hundreds of binoculars we've tested where we can't see any significant chromatic aberration when observing.
Normally when checking against the dark boughs of trees set against an overcast sky on a bright day (overcast days are commonly brighter than days without clouds) we expect to see some purple or blue fringing around the edges where dark meets light. But we couldn't spot any. Even when looking toward the edges of the image circle our vision wasn't significantly detailed enough to pick any out.
This is fantastic but also something you'd hope to see considering they're almost 5x more expensive than Nikon's most supreme line of binoculars.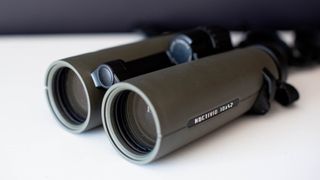 This is in part due to the specialized HDC Plus-multicoating that the lenses have to allow as much light to pass through to the observer's eyes as possible. In addition, their longevity is increased because of the AquaDura coating which repels water and keeps it easy enough to wipe down if they get rained on.
Jump between the warm car or house and the colder outside without issue too because the binoculars are fogproof. Heck, you can even drop them in a lake and, provided you can dive down to collect them, they should be okay because they're waterproof down to a submerged depth of 5 meters.
Leica Noctivid 10x42: Verdict
These are likely our top pick of binoculars from all we've ever tested. But does that mean we'd recommend them above any other binocular? Not quite. We're big fans of the image stabilization used in some Canon binoculars and we also love the compactness and much lower price of the Nikon Monarch line.
So who are the Noctivids for? Observers that have the budget and want the best optically, without the frills and added weight of image stabilization. Someone who wants their binoculars to fill them with joy when they look at them as well as when they look through them. We'd recommend getting them in olive green rather than black because they blend in and ironically, stand out, better than the typical black colorway you get with many other binoculars.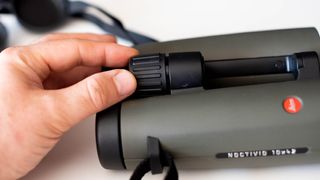 You might also like...
The obvious competitor from our breadth of testing and reviews is the Nikon Monarch 10x42 which we've previously reviewed. They're approximately a fifth of the price, are waterproof and fogproof, and have a locking dioptre and no chromatic aberration thanks to superior glass and lens and prism coatings. They feel compact and lightweight but they don't look quite as polished as the Leicas.
Want to get decent performance without dropping four figures on a pair of binoculars? Take a look at the Nikon 10x50 Aculon A211 binoculars. Larger 50mm objectives mean they can drink in more light and so perform better in lower light, especially around twilight when certain birds and wildlife start to appear and appeal to beginners and hobbyists who want a good pair but have a limited budget.