The SD card market is flooded with a multitude of capacity, speed, brand, and even bus speed options, so picking the right card for you can easily get confusing. You can split the market into two main sectors though – UHS-I SD cards are the older, slower variety, while UHS-II SD cards are roughly twice as fast, providing your camera can utilize that extra speed. If not, the card will still work, but at the slower USH-I rate.
Lexar's latest Silver Pro SD cards are in the UHS-II camp, with an advertised maximum read rate of 280MB/s and a peak write speed of 160MB/s. By comparison, Lexar's flagship 2000x Gold SDXC cards max out at 300MB/s read and 260MB/s write. However, the Silver Pro series isn't designed to break speed records - its aim is to offer quick UHS-II transfer speeds but at an affordable price.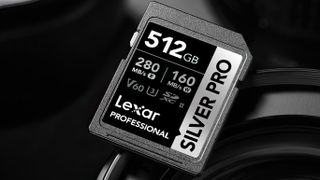 Lexar Silver Pro: Key features
Lexar Silver Pro cards are available in 64GB, 128GB, 256GB and 512GB capacities, all of which carry a V60 Video Speed Class rating, meaning they're guaranteed to sustain a minimum 60MB/s write rate when shooting video. This isn't quite the top-most V90 (90MB/s) certification, but it should still be enough to shoot 4K video and high-bit-rate 1080p footage without slowdowns or dropped frames.
Headline peak read/write speeds are 280MB/s / 160MB/s, respectively, but it's worth noting that these only apply to the 256GB and 512GB Silver Pro cards. Go for the 128GB variant and you'll get speeds of 280MB/s read and 120MB/s write, or 130MB/s write for the 64GB card, though the smaller capacities do still come with V60 certification.
Unlike some brands, Lexar doesn't make any bold claims that Silver Pro cards are built to survive extreme abuse, but it does list a wide operating temperature range of 0 °C to 70 °C (32 °F to 158 °F). It also states that "All Lexar products undergo extensive testing in the Lexar Quality Labs, facilities with thousands of different cameras and digital devices to ensure performance, quality, compatibility, and reliability."
Lexar Silver Pro: Performance
To get a reliable indication of the maximum speed our 256GB Silver Pro sample card was capable of, we used the industry-standard Crystal Disk Mark memory speed benchmark. This revealed a maximum read rate of 259.17MB/s - a little short of Lexar's claimed 280MB/s maximum, but still impressive. Our best peak write speed was 164.98MB/s, which slightly exceeds the advertised 160MB/s maximum.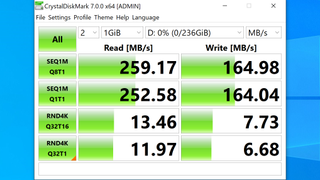 Real-world sustained transfer speeds between our Silver Pro card and a laptop containing a fast NVMe SSD confirmed these benchmark results. Transferring multiple small files will always be slower than one single large file, but even in this test the Silver Pro card maintained respectable read/write speeds.
Swipe to scroll horizontally
Real-world transfer speed test

| Header Cell - Column 0 | Read | Write |
| --- | --- | --- |
| Large single file | 254MB/s | 164MB/s |
| Multiple small files | 198MB/s | 140MB/s |
Switching to in-camera speed testing using a Sony a7R III as our test camera, we were able to record 4K video at a 100Mbps bit rate with no slowdowns or perceivable frame drops in playback. Stills shooting also caused no issues, and we shot a burst of 30 uncompressed 42.4MP raw files in around 3.6 seconds with the camera in its fastest Hi+ burst mode. This is slightly better than Sony's official 28-shot figure.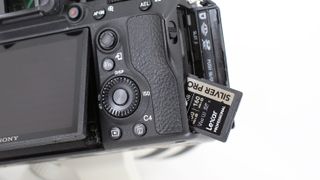 Lexar Silver Pro: Verdict
We came away very impressed by the excellent value offered by Lexar's Silver Pro SD card. Our 256GB test card balances speed and affordability very well, although the smaller 128GB and 64GB cards are slightly slower, so bear this in mind when making comparisons. It's a pity we couldn't quite achieve the advertised 280MB/s maximum read rate during our testing, but this didn't impact on the card's real-world capability.
At the time of writing a 256GB Silver Pro card can be picked up for around USD $78. We were able to find a few alternative 256GB UHS-II cards with comparable read/write speeds for slightly less money, but these were from less high-profile brands, and the cost difference wasn't too significant.
Ultimately, if you're looking for an SD card that offers a decent turn of speed, but which won't cost a small fortune to buy, the Lexar Silver Pro range should be high on your shortlist.
Read more: for more choices check out our top picks for the best memory cards for your camera - SD, microSD, CF, and XQD, and for getting the best speeds on your laptop the best memory card readers