You'd be forgiven for searching for the PNY EliteX-PRO and being a little confused. PNY's naming system for its SSDs is slightly hard to follow, with it currently offering the PNY Elite, PNY Pro Elite V2, and this – the PNY EliteX-PRO.
These similarly named devices are mostly separated by their different specs for their USB connections, however, they are not separated much by their prices, with there only being a $15 difference between the Pro Elite V2 and EliteX-PRO at the time of writing.
PNY EliteX-PRO: Specifications
Interface: USB 3.2 Gen 2x2
Connection: Type-C
Included cables: USB-C to USB-C, USB-C to USB-A
Capacities: 500GB, 1TB, 2TB and 4TB
Speed: Up to 1600MB/s read, 1500MB/s write
Dimensions: 64.5 x 57.8 x 11 mm
Weight: 110 g
Compatible with: Microsoft Windows, macOS, Linux, Chrome OS
The PNY EliteX-PRO is both the newest and the fastest of the drives, with a USB-C 3.2 Gen 2x2 connection. Coming in four capacities, 500GB, 1TB, 2TB, and 4TB, the 500GB model offers max read speeds of 1500MB/s and write speeds of 900MB/s. The 1TB can reach 1500MB/s read and 1400MB/s write, and the 2TB and 4TBtops out at 1600MB/s read and 1500MB/s write.
However, there is a question of whether your machine can take advantage of this, with many laptops and desktops coming with just the standard 3.2 Gen 2, and not the newer 2x2 spec, so many users might not be able to feel the benefits over a slower drive.
But where EliteX-PRO comes up aces is on price. If you have the optimal connection then the PNY EliteX-PRO might well be a very tempting proposition as it undercuts the competition, with other drives from rivals with similar headline speeds mostly much more expensive. But even if you can't get the top speeds from your USB connection then it is still worth considering the EliteX-PRO as it matches slower drives for price, making this a great value option that might become more useful if you upgrade your other hardware.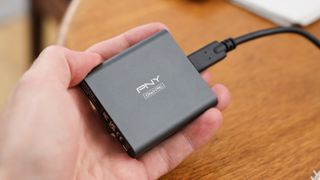 PNY EliteX-PRO: Design & Handling
The PNY EliteX-PRO is a very non-descript portable SSD, the small square drive looks very minimal with a gunmetal grey metallic finish and rounded sides, branding is also kept at a minimum with the product name printed on one side, and regulatory information at the base. The EliteX-PRO is not going to stand out, but I don't mind that, with drives like SanDisk's Extreme range being very shouty in their design, this drive is sleek and professional looking, and would look good in a studio or directly attached to a camera.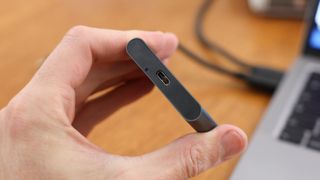 The drive is very light too, when I first picked it up it felt almost hollow, and it sounds a little that way too, like the shell is too big for the components inside. Again, if you want to use this for direct camera recording, having a light and compact drive makes carrying, balancing, or fitting to a rig much easier.
The drive has a USB-C connector and comes with two cables, one for USB-C to USB-C and the other for USB-C to USB-A. These cables are both very short at only 19cm (~7in), and the cables also don't have a lot of flex in them which meant I couldn't position the SSD around my laptop and other peripherals very easily.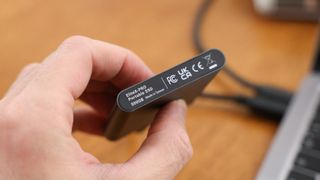 PNY EliteX-PRO: Performance
I should start by saying that I do not have a Gen 2 2x2 USB-C connection on my laptop, but I do have an actual laptop many photographers and videographers use in their everyday lives – the MacBook Air (M2). So while the benchmarks might not be as high as they could be, this is realistically what a lot of people can expect from the drive.
I am testing the 500GB version which has a quoted maximum read speed of 1500MB/s, and write speed of 900MB/s. Using the drive straight out of the box, the drive's performance is good, although I could not get near the advertised speeds when transferring files from my MacBook SSD to the EliteX-PRO. Transferring 16.68GB made up of around 775 JPEG and RAW images took 31.36 seconds, which works out as 531.89 MB/s.
Using benchmarking was kinder. Using BlackMagic's Disk Speed Test, I got read speeds of 848.1MB/s and a write speed of 772.5MB/s.
When I reformatted the drive from ExFAT, which is how the drive arrives, to Mac OS Extended, this same transfer as above took only 19.62 seconds for a speed of 850.15MB/s, which is a significant improvement. However, if you use multiple operating systems then this won't be a viable solution for you.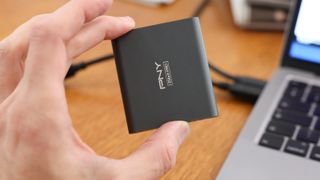 PNY EliteX-PRO: Final Verdict
The PNY EliteX-PRO SSD stands out as a remarkably compact and lightweight solid-state drive, that would suit direct-from-camera recording, or as a drive to edit directly from. The EliteX-PRO has an unassuming exterior, with a smart minimalistic look. The EliteX-PRO is also priced affordably, this drive manages to undercut a significant portion of the market for USB-C Gen 2 2x2 drives, making it a compelling choice for those looking for high-speed, reliable storage solutions without breaking the bank.
When it comes to performance, the PNY EliteX-PRO SSD offers commendable speeds, especially when used with Gen 2 devices, which many photographers and videographers will be working with day-to-day. While the EliteX-PRO SSD may not always achieve its advertised peak speeds, it consistently delivers performance that is on par with or even surpasses many of its competitors within the same price range.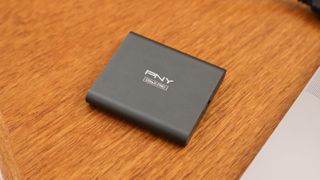 Should you buy the PNY EliteX-PRO?
✅ Buy this if...
You have a device capable of using Gen 2 2x2 speeds
You want a compact and lightweight SSD
You want an affordable high-capacity drive
🚫 Don't buy this if...
You want the absolute maximum speeds possible from an SSD
You want a rugged waterproof SSD
You might also like...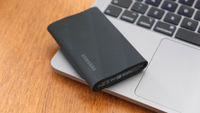 The Samsung T9 SSD offers the same USB Gen 2 2x2 connection, however, is more expensive than the PNY EliteX-Pro, and offers a more sturdy drop-proof exterior.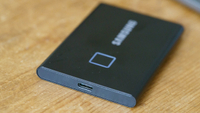 Not quite able to match the 2x2 ports on the PNY, but the Samsung T7 portable SSD has very much the same design and style and on many computers will operate at similar speeds.