More and more we rely on various devices to stay connected, productive, and entertained. Whether it is smartphones, tablets, laptops, or smartwatches, we are increasingly overwhelmed by devices that need to be charged regularly, and more often than not, at the same time.
Ugreen Nexode 100W with MagSafe: Specifications
Total output: 100W
Magsafe: 15W
Single port: 100W, 100W, 22.5W
Ports: USB-C x2, USB-A x1
Size: 15.2 x 11.5 x 11.2 cm (5.98 x 4.53 x 4.41 in)
Weight: 1 kg (2.2 lbs)
This can pose some challenges, such as finding enough power outlets, using different cables and adapters, and dealing with long, trailing, and tangled wires. Moreover, some devices require more power than others, and some support wireless charging while others do not. So, how can we overcome these challenges and enjoy a seamless charging experience?
The answer is to use a charger that can handle multiple devices at once. Enter the Ugreen Nexode 100W GaN with a 15W MagSafe Charger Station. This is a "4-in-1" charging station, which basically means it can charge up to four devices simultaneously, three via a wired connection and one using MagSafe wireless charging, for a total output of 100W.
The MagSafe charging is compatible with iPhones from the 12 series and up and supports Apple's top rate of 15W. The three additional ports can provide enough power for laptops and tablets, with a single port output of 100W, provided there are no other connected devices (including via the MagSafe pad). Although powerful laptops like the 16-inch MacBook equipped with M2 Pro chip might struggle to go at full pace and keep charging with just 100W, most other MacBooks and laptops will be fine. You can also charge most other USB-equipped devices like cameras using the other ports.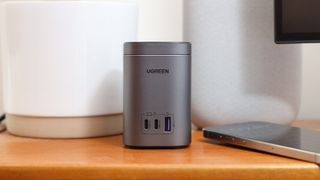 Ugreen Nexode 100W with MagSafe: Design & Handling
I think this Ugreen power station looks so slick on my desk, both with nothing on it and the top folded flat or with my iPhone sitting on the MagSafe pad. The charger itself is smaller than a can of Coke, so can fit snugly in a busy desk setup. The power station is very well made, and it feels very high quality, especially the MagSafe lid that flips up and can be held to any degree up to 65°.
The MagSafe charger works at any angle, so iPhones can be placed on portrait or landscape so you can choose between having a stream of notifications or iPhones ambient clock mode, or either TikTok or YouTube for entertainment.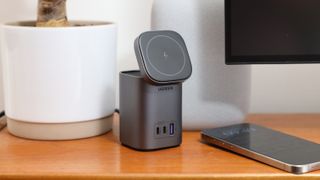 If you're worried about the charger's sturdiness with a phone the size of the iPhone 15 Pro Max, then fear not, in my testing with that exact device the charger was rock solid. The power station has a fair heft to it which weighs it down, and it has grippy little feet on the base I found very effective at stopping it sliding around.
Whilst Ugreen markets this as being a portable power station to take from place to place, I'd slightly disagree as it's a little on the heavy side and you have to disconnect and take the power cable which is an extra faff when it might be plugged in down the back of a desk. There are plenty of good portable wall chargers, so I think the Ugreen power station is a much better proposition as a permanent addition to your desktop.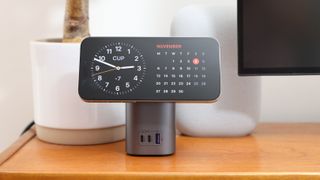 Ugreen Nexode 100W with MagSafe: Performance
The charger performs well in my testing. I could get all the advertised amounts from the different ports, including enough power to charge my iPhone 15 Pro Max on the MagSafe charger, while charging and running my MacBook Air (M2) from the USB-C port.
The charger had no issue assessing and adjusting to the maximum charging speed of any of the devices that I plugged into the various USB ports including my Fujifilm X-T5, AirPods, or iPad Air, charging them as fast as the device allows.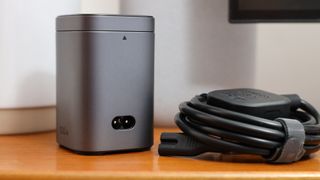 Below you can see the charging combinations for the Ugreen 100W charger, and you are not alone if you think they look pretty confusing. There are multiple different combinations of output for each port based on which other ports are in use.
The 100W headline output of the charger quickly diminishes as soon as you try to charge another device. If your laptop needs 100W, but you also want to use the MagSafe pad on top, then you will be disappointed to learn that this drops the USB-C port to 65W. Interestingly, many of the charging combinations do not in fact add up to a full 100W.
When all the ports are in use, it really depends what you want to charge with the Ugreen station. An M1 or M2 chip MacBook Air, or similar Windows devices like the Surface Laptop can be powered with just 45W. Although more beefy laptops with more cores and better graphics will struggle to charge and run simultaneously.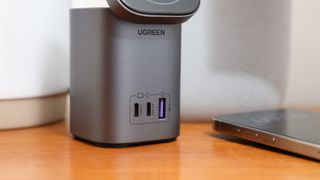 Ugreen Nexode 100W with MagSafe: Final Verdict
The Ugreen Nexode 100W GaN charger, coupled with its 15W MagSafe feature, adds an elegant touch to any well-organized desktop setup. To begin with, the charger itself boasts a visually pleasing design, elevating the aesthetics of your workspace. However, when you place an iPhone in landscape orientation on the MagSafe charger, it transforms into a stunning desktop clock, blending functionality with style.
Furthermore, the charger's impressive 100-watt output provides ample power to efficiently charge most MacBooks and other laptops through a single port. It also accommodates the charging needs of various peripheral devices. Yet, I can't help but see a missed opportunity in the absence of a second wireless charger beneath the top surface, which could have been perfect for charging AirPods or an Apple Watch, further enhancing the charger's versatility.
However, with few chargers offering both wireless charging and a powerful desktop charger combination, this unique combination makes this one of my favorite chargers I have used.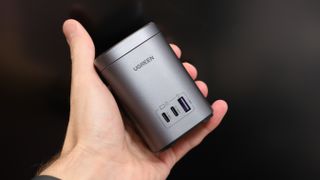 Should you buy the Ugreen Nexode 100W with MagSafe?
✅ Buy this if...
You want to turn you iPhone into a cute desk clock while it charges
You want to enough power to charge a laptop
You want to organise several chargers into one device
🚫 Don't buy this if...
You have a laptop that needs more than 100W (or 65W while MagSafe is in use)
You have an Android phone without a MagSafe case
You want a charger that travels easily
You might also like...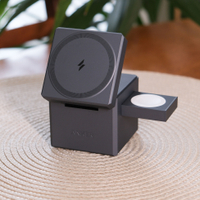 If you own several Apple devices and you love wireless charging then the Anker 3-in-1 Cube is for you. There is no throughout for charging other devices, but you can keep your iPhone, AirPods, and Apple Watch fully powered on this very portable wireless charger.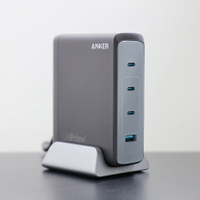 The Anker Prime 240W desktop charger might not have any wireless charging capabilities, but it more than makes up for it in power. Capable of charging even demanding laptops with a single port output of 140W, or a huge 240W spread across all your devices.